K.A.T.-Clover
Home
NEWS
Guestbook
Contact
Subscribe
Archiv
Our World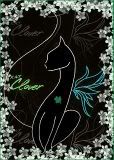 Hello! We are 3 girls forming the K.A.T.-Clover-Team. We are best friends, love cute things, good movies and drawing. We hope you like our works. Have fun with our site!!
More ?
Goodies
Navi - Our Work
Navi Fanart
Photos
Header
Links
Samptpfötchen
Das ist Kittys schmussewölkchen!!!!
Ist sie net niedlich?